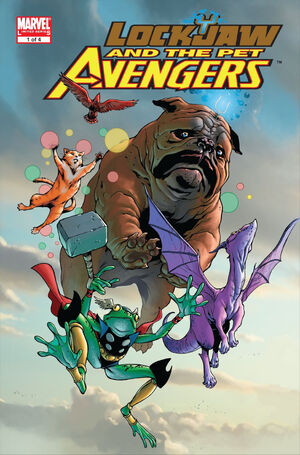 Numeros: 03/Actualmente Publicandose

Idioma: Español

Guion: Chris Eliopoulos Ig Guara

Dibujante: Chirs Sotomayor

Traduce: cruzedelsur

Maqueta: josefo290


Tales of the Pet Avengers es obra de Chris Eliopoulos autor de 'Franklin Richards: Son of a Genious'.
En esta ocasión Eliopoulos nos presenta una serie protagonizada por algunas de las mascotas más famosas del universo Marvel. Así reúne en team-up a Mandíbulas (el perro de los Inhumanos), Lockheed (el dragón de Kitty Pryde), Throg (la rana Thor), el pájaro de Halcón y Mist (el gato de Speedball).
Cuando se le preguntó por qué no se había hecho nunca una serie así, y por qué la hacía ahora, Eliopoulos respondió:
Yo culpo a los medios. Eso o que Nate [el editor] no editaba en esa época. El hombre ama a sus perros. Perros y fútbol. Si los perros jugasen al fútbol sería el cielo. Honestamente, no tengo ni idea de por qué nadie ha hecho un libro de Mandíbulas. ¡Es el perro teletransportador más molón hecho jamás!
http://www.megaupload.com/?d=9DKEK2EW